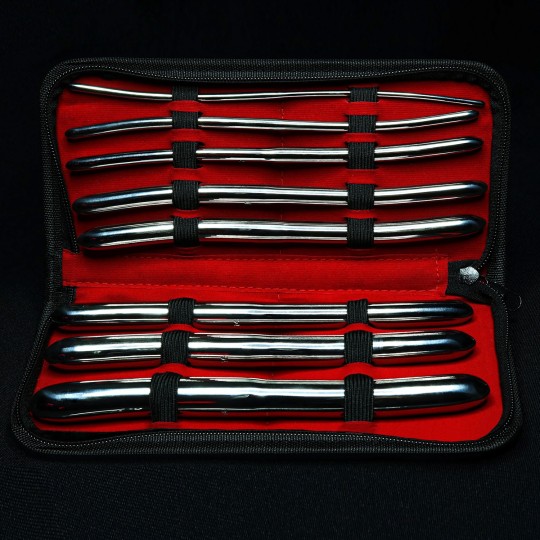  
Hegar8 Double Urethral Sounds 8 Pieces
Double Urethral Sounds Set 8 Pcs - 100% Stainless Steel.
HEGAR8 is not only the most popular sound set sold but it is also a fantastic collection of sounds made for intense urethral stimulation. Hegar sounds are extremely popular and made to provide great sensations, so this kit will satisfy any man looking for deep urethral stimulation newbie or experienced.
There are 20cm 8 sounds in the set, but since each of sound a different size on each end, it actually means you are getting 16 different sized sounds for the price of 8. The smallest one is 3 mm and the largest on is 18 mm, so there is something for everyone.
This kit is also great for training your urethra. It will help you gradually increase its size in a gentle and comfortable manner.
Many people also like to also use these sounds not just for urethral stimulation but also anally, vaginally or for deep prostate stimulation. It makes these sounds into a truly multi-functional pieces made for pleasure. Not to mention that this elegant kit would make a great gift for that special someone.
Sounds sizes: 6 / 6,7 / 7,3 / 8 / 8,7 / 9,3 / 10 / 10,7mm

PU leather zipped case
Also available in 14pieces set: HEGAR14