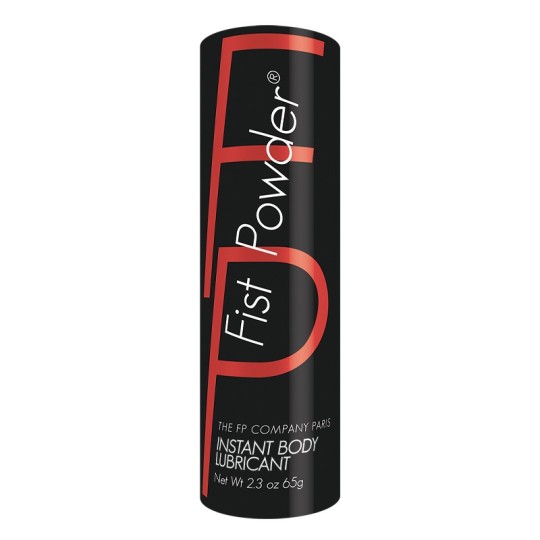  
FistPowder 65 g
Pricing information June 01, 2021
Following the increase in raw materials FistPowder adjusts its price to € 7.90
FistPowder- Give your ass a treat – 100% safe.
Simply pour a 7g sachet in 500ml of warm water and get instantly 1/2 liter of the finest & most slippery lube for Fisting, regular sex and masturbation.
A brand new formula, much stronger, extremely slippery and long lasting

Forget the crap that has been used for years, due to the lack of suitable lubes.

The fisting community had to play with products that were not developed to be shoved up the ass compromising on safety and comfort.
Let the vets use their products on cows and keep the frying/baking butter in the kitchen.
No more allergies or any danger: FistPowder does not contain any preservatives or toxics and is hypoallergenic. Once prepared, the lube does not have any taste or smell – you can even lick it. Store it untouched by human hands 24/48h maximum in your refrigerator.
If some pretend to be condom friendly, only FistPowder is certified for use with condoms.
Gear up and don't be afraid to use FistPowder with any of your Fetish-wear: Leather, neoprene, rubber, gloves, underwear and others.
You can be assured that FistPowder does not stain any of your garments or your surroundings and is washable with water.
Once the lube is dry it becomes powder again and can be easily wiped or washed of your body within seconds.
No more endless hours of cleaning up after your play session.
FistPowder is easy to handle, does not result in any slimy spaghetti-like strings and moreover is instantly ready to use.
FistPowder can also be perfectly used for penetration with or without toys, masturbation, all kind of massages and electro stimulation due to its good conductance.
Ingredients: Maltodextrine, Xanthan Gum, Poly(ethylene oxide)
65g 
Made in France
1- Using cap provided, measure just 7g of FistPowder
2- Poor 500ml of warm water in a container / blender, add these 7g. Shake thoroughly / blend until a smooth gel forms.
3- Play with thickness or concentration by reducing or adding  the amount of powder when mixing. The gel regenerate itself by adding water.
Products from the same category