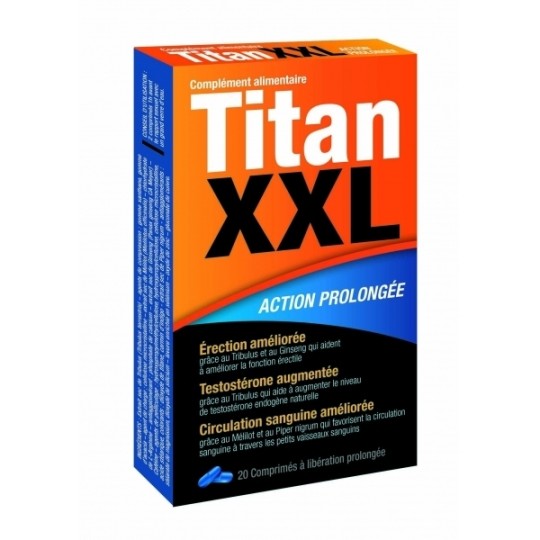  
Sexual Booster For Men Titan XXL
LABOPHYTO | Sexual Stimulants
For these men who are not satisfied with their erections and without sexual desire
The most of Titan XXL: longer action
Strong points:
- Strengthens the erection 
- Increases the level of testosterone in the body 
- Improves blood circulation
We tested for you the stimulant Titan XXL
Titan XXL is the new long-acting food supplement that will improve men's erections with Tribulus and Ginseng, increase their level of natural testosterone (Tribulus), and improve blood circulation with Sweet Clover and Piper nigrum! To consume in parallel of a healthy way of life.

Using advice:
Take 2 tablets with a full glass of water 1 hour before intercourse.
Composition: Tribulus Extract 450mg, Melilot Extract 250mg, Ginseng Extract 100mg, Piper Nigrum Extract 50mg, Caffeine 100mg, Arginine 200mg, Copper 1mg, Selenium 55μg, Zinc 10mg.