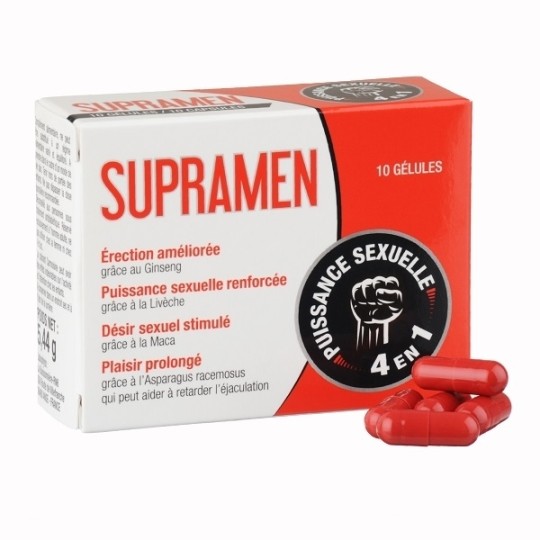  
Sexual Stimulant Supramen 10 Caps
LABOPHYTO | Sexual Stimulants
Supramen has been designed to enhance the sexual performance of those who desire longer relationships and a more intense desire.

2 Capsules 1 hour before sex: IMMEDIATE EFFECT!

Supramen contains the following active ingredients
• Maca (Root) 380mg
It helps to stimulate sexual desire
• Asparagus (Root) 200mg
It helps to delay ejaculation
• Ginseng (Root) 100mg
This plant helps to induce and improve the erection
• Livestock (Root) 80mg
It enhances sexual potency thanks to its toning action.
Vitamin B1 (1.1mg (100% AR)), Selenium (55μg (100% AR)), Zinc (10mg (100% AR)).
These vitamins, minerals and trace elements help to reduce fatigue (vita C and Niacin), the proper functioning of the spermatogenesis (Selenium) and improve the sexual desire (Zinc)

Using advice:

Take 2 capsules 1 hour before sexual intercourse

Not recommended for children, adolescents or people on antihypertensive or antidiabetic treatment.
Composition for 2 caps:

Dry extract of Maca (Lepidium meyenii) - dry extract of Asparagus racemosus -, carmoisine - dry extract of Ginseng (Panax ginseng CA Meyer) - dried extract of Lech (L) ascorbic acid (celery) -Nicotinamide (vitamin B3) - zinc oxide - anti-caking agent: magnesium stearate - thiamine hydrochloride (vitamin B1) - sodium selenite. Capsule envelope: gelatin, dyes: titanium dioxide, iron oxide yellow and red Allergen: contains celery and celery products